Le Tholonet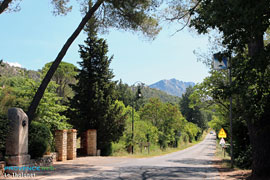 Le Tholonet is a small village situated close to
Aix en Provence
in the "Haute Vallee de l'Arc" which is worth visiting for several reasons.
From the village there are magnificent views of Mount Saint-Victoire and the superb surrounding countryside.
You will appreciate the picturesque rivers of the Arc and La Cause which cross the territory and meander between the vineyards and fields of wild flowerse.
Le Tholonet was one of
Paul Cézanne
's favourite places. Its red soil, grey rock and intense blue sky all complemented by Mount Sainte-Victoire , offer a palette of extraordinary colours.
You will discover the
Chateau du Tholonet
painted by
Cézanne
and which today is one of the stopping-points on the
Cezanne circuit
retracing the important sites during his life-time in the region.
When leaving the chateau, you will cross in front of the "Relais Cezanne" then the small Tholonet church.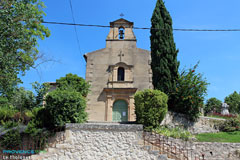 When leaving the village, at the foot of the windmill, you will come across a figure in the image of
Paul Cézanne
which commemorates the centenary of his birth, and you can later see the barrage built by Francois Zola, father of the famous writer.
You can have lunch or dinner at several very pleasant restaurants, complete with lovely gardens and shady terraces that create a very romantic atmosphere.
Le Tholonet is also fortunate to have a very famous vineyard which is highly appreciated by connoisseurs.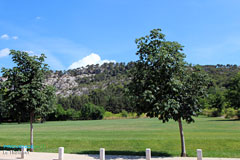 Although the AOC (the French government certification guaranteeing quality), covers only a small area (12 hectares) it produces one of the best white
wines of Provence
, a warm red and a nervous rosé.
The vineyard, "
La Palette
" was created by the Carmelite order in medieval times and was classified AOC in 1948.
What to see
Tholonet church.
Mill, the Chateau and its surroundings.
Espinades area: Barrage Francois Zola dam and roman aqueduct.
Cezanne tour (In the steps of Cezanne). St Michel de Frigolet Abbey (5 km).
Leisure activities
Hiking, Mountain biking.
Market, Tuesday and Saturday morning.
Accomodations
Holiday rentals.