'; //-->
Saint Antonin sur Bayon
The Bouches du Rhone Departement - Population : 130 inh.



14 km East of Aix en Provence on the D17.


Saint Antonin sur Bayon is an extremely small village which spreads out over the 1 753 hectares on the green slopes to the south of the Sainte Victoire mountain, just a few kilometers from Aix en Provence.
Looked over by the abrupt sides of the mountain the village sits on a small plateau surrounded by ridges and pretty little mountain valley and has only a few houses within it's territory.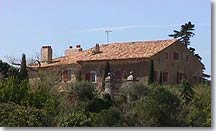 As it's name suggests Saint Antonin is crossed from East to West by the pretty stream : the Bayon. You'll discover the superb landscapes that Cezanne saw when he came walking in the area. Nature hasn't changed, verdant, wild and magnificently preserved. Saint Antonin has remained a haven of peace which you can discover and enjoy from the scented paths around the village.
The only road leading to Saint-Antonin snakes up the mountain side and is really superb bordered by the wonderful landscapes , drive slowly to really take in the beauty of the surroundings...!
Don't miss: La Maison de Sainte-Victoire which offers a variety of information about Sainte Victoire and the geology of the upper Vallée de l'Arc, and a local products shop with books and guides .., and an extremely interesting exhibition of local species : animals , flora, plants and trees... etc. (open from 10h to 18h).






What to see:
Church, 1738.
La Maison de Sainte-Victoire (exhibitions flora and fauna).


Leisure activities:
Walking.


Accommodation:

Stopover Gite. Rural Gites.
Holiday rentals.


Neighbouring towns and villages:
Beaurecueil (5 km), Puyloubier (6 km), Le Tholonet (7km) and Chateauneuf le Rouge (8 km).