'; //-->
Vernègues
The Bouches du Rhone Departement - Population : 1,670 inh.



33 km north-west of Aix en Provence, 10 km north-east of Salon de Provence or from Alleins, take the D16 and the D22 (longer but prettier)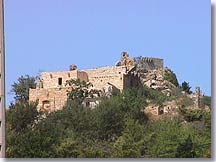 The village of Vernegues lies in the midst of beautiful countryside where vine-covered slopes alternate with "restanques" (long stone terraces) planted with olive trees, as well as orchards and fields of wheat.
The D16 and D22 are pleasant roads which make for an enjoyable journey through these typically Provencal landscapes to the village of Vernegues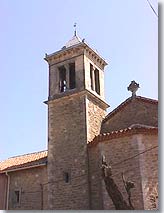 The original village (now known as Vieux Vernegues - Old Vernegues) was destroyed on 11th June 1909 by a terrible earthquake.
When you arrive in the village you will immediately spot the ruins of Vieux Vernegues, standing out on the hill in the distance. Go and have a look round - you will find the remains of the chateau, a number of houses and the church.
Once you reach the plateau, with its carpet of thyme and wild flowers, swept by the Mistral wind, the panorama which unfolds before you will take your breath away (there is also an orientation board).
Vernegues boasts a rich heritage: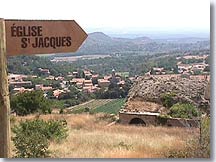 - to the south, in an oak wood, you will find substantial remains of a 1st-century settlement which was destroyed at the end of the Greco-Roman period. Take the D22 from Cazan to the Chateau Bas estate, to the south of which the broken columns of a little Roman temple can be seen. Abutting the temple, you will find the chapel of Saint Cezaire. There is also a semicircular precinct, the substructure of a row of columns, and a pilaster and column wall in the purest Corinthian style.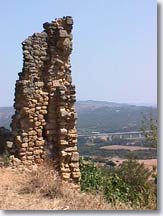 - to the north of Vernegues, you will find an 8th-century necropolis, an oil mill, some polishing stones and a Gallo-Roman oppidum.
All round Vernegues, beautiful countryside offers the perfect setting for some magnificent walks. Let yourself be led by the subtle perfumes of the aromatic wild plants which line the footpaths.






What to see:
Ruins of Vieux Vernegues.
Chapel of Saint Cezaire.
Chapel of Saint Symphorien.
Roman temple of Vernegues.


Leisure activities:
Walking.
Tennis.
Pont Royal Golf Course at Mallemort (3 km).


Accommodation:

Bed and breakfast.
Holiday rentals.


Neighbouring towns and villages:
Aurons (4 km), Alleins (5 km), Charleval (9 km) and Lambesc (11 km).