'; //-->
Allons
Alpes de Haute Provence Departement - Population : 152 inh.



Take D52 off D955 linking St. André les Alpes to Barcelonette.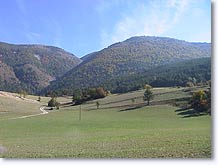 Allons is a small village in the middle of nowhere, that you will discover after fully enjoying the 6 km of narrow road that leads you there once you leave the D955.
The road (which is very pleasant and without too many bends) creeps along in the middle of superb landscapes of almost untouched nature.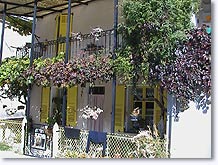 You are in a verdant setting, surrounded by fragrant hills, mountains and green prairies.
In winter, these same prairies sleep 'neath a mantle of white, and all you have to do is don your cross-country skis to discover the beauty of Allons in the snow.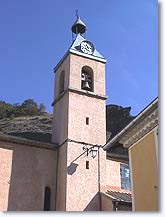 In summer you will be able to take advantage of this peaceful, cool, pastoral setting far from the major tourist migrations.
There are sublime walks here. Follow the little Ivoire river and walk for hours without coming across a single house.
the village has less than 100 inhabitants and the road that leads to Allons ends in Allons, in other words everyone knows each other in the village...






What to see:
In spite of a rich historical past, there are very few remains to visit...
The Château de Vaucluse erected by the Templarswas destroyed by the Count of Provence in 1390.


Leisure activities:
Walking. Cross-country skiing.


Accommodation:

Bed and breakfast.


Neighbouring towns and villages:
La Mure-Argens (10km), Saint André les Alpes (15km).