'; //-->
Sainte Croix du Verdon
Departement of the Alpes de Haute Provence - Verdon - Pop.: 120 inh.



On the banks of Lake Ste. Croix, 30 km, from Riez, 20 km. from Moustiers Ste. Marie.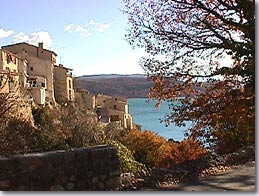 Situated at the exit of the famous Verdon Canyons, this charming Provençal village is built high on a rocky promontory and at its foot lies Lake Ste. Croix.


14 km. long and 2 km. wide, Lake Ste. Croix is a wonderful spot for families with its well equipped beaches and the many activities offered.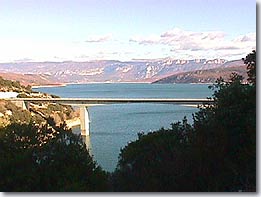 The old village has some lovely houses and pretty public squares, shady and blooming with flowers.


From the top of the village there is a splendid panorama of the lake...don t forget your cameras !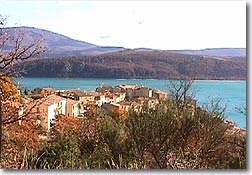 Ste. Croix du Verdon is without a doubt one ot the nicest places of the Verdon region, and is appreciated by many visitors. Its few permanent residents are very busy in the summer.





What to see:
Museum of the Arts and Popular Traditions.
16th c. parish church.
Picturesque village houses.
Surrounding countryside.


Leisure activities:
Activitiy center at the lake. Fishing. Sailing lessons.
Club Nautique (water sports club) Windsurfing. Kayaking. Pedalboats.
Tennis, Volleyball. Hiking. Riding school. Poney Club.
Village Festival: August 6.
Ste. Croix Festival: September 14.


Accommodation:
Hotels.
Bed and breakfast.
Holiday rentals.
Campsites.


Neighbouring towns and villages:
Montagnac - Montpezat (6km), Baudinard sur Verdon (8km), Roumoules (12km).