Simiane la Rotonde
Departement of the Alpes de Haute Provence - Pop.: 600 inh.



24km north east of Apt via the D22 in the direction of Banon.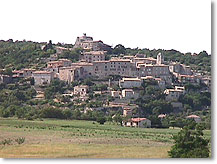 This magnificent little village is perched high on a hill surrounded by fields of lavender, between Forcalquier and the Luberon.

Classed "cité de caractère", the village posseses a rich historic past and you will discover some fascinating architectural details dating back to the middle ages and the Renaissance.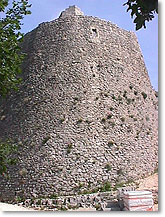 The remains of a 12th century rotunda is all that can be seen today of the château which once belonged to the noble Simiane-Agoult family. Dominating the village from the top of its hill, this rotunda is like a large round keep with a huge arched ceiling.

The rotunda has been recently restored and a traditional music festival is held here every summer. Simiane la Rotonde was a prosperous village in the past, and some grand residences and "hôtels particuliers" can still be seen today.

With the 16th century covered market place, stalls and boutiques, it is easy to imagine the lively trading that used to go on.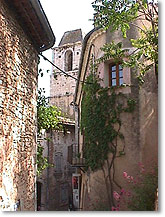 While walking in the streets, you will come across beautiful façades, sculptured doors and delicately worked window frames.

From the gardens and terraces set out on the sides of the streets, you can appreciate the spectacular view of the purple fields of lavender. For many years, Simiane was the regional capital of lavender and today remains an important production centre.

You will appreciate all the flourishing charm of this village surrounded by vast purple fields which fill the starry summer nights with the most delicate fragrance...




What to see:
12th century rotunda.
12th century Ste Victoire church.
Gate from the house of the painter, Coubine.
Ancient covered market place.


Leisure activities:
Hiking, guided tours around the village.
Summer festivals, exhibitions.
Arts and crafts : ceramics, paintings, sculptures...
Festival during the first weekend in May.
Traditional music festival from mid-July to mid-August.


Accommodation:
Hotel.
Bed and breakfast.
Holiday rentals.
Campsite.


Neighbouring towns and villages:
Lagarde d'Apt (9km), Saint Christol (10km), Rustrel (14km).