Méolans Revel
Population : 300 inhabitants
Discover the small village of Méolans Revel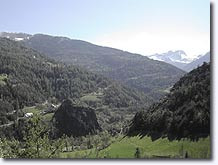 Moelans Revel is made up of several scattered hamlets: Méolans, St Barthélémy, Laverq, Rioclar and Revel. It is overlooked by several peaks (Tête de Louis XVI at 2,408m, L'Estrop at 2,961m, Les Trois Évêchés at 2,819m), and is a veritable nature paradise.
Located at the heart of the sumptuous Ubaye valley, with its greenery, woods, sun and peacefulness, nature lovers will be in their element here: climbing, hiking, and white water sports in the turbulent waters of the river Ubaye await them!
But the municipality also has several churches (one per hamlet) (in particular the beautiful 14th century bell tower at Méolans, a hillside village), some beautiful ruins (such as those of Laverq Abbey, 12th century), a chapel with fresco and sundial, an old bakers oven, etc.
Note a curious local feature: donkeys for hire!!!
What to see
Circuit of 3 churches (St Julien de Méolans, St Jacques de Revel, Notre Dame des Rivières at Rioclar).
The Vale of Laverq with its little villages clinging to the mountainside, its pastoral and forestry activity.
The Eaux Tortes discovery trail that leads to the former glacier of the Blanche.
Leisure activities
White-water sports, climbing on the Méolans rock face.
Adventure trail. Hiking. Mountain biking.
Musicales d'été (real music festival with international artists).
Campings
Camping River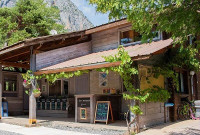 Camping River offers all the advantages of a campsite in Méolans-Revel in the Alpes-de-Haute-Provence. You can enjoy a relaxing or fun-filled holiday as you wish. Located in the heart of the Provence-Alpes-Côte d'Azur region, this campsite will delight you with its location. You'll be able to enjoy the pleasures of swimming in the campsite's unheated outdoor pool, which is only open during the summer months.
40

/

Accomodations
Bed and breakfast.
1 Holiday village, gites, Campsites. 1 Refuge. Municipal gites.