Aiglun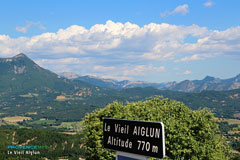 Although the municipality of Aiglun today is a large modern residential area, with more than a thousand inhabitants, and not of any great interest to tourists, the ruins of the old part of Aiglun are worth a visit.
The old village looks down the Bléone valley from on-high.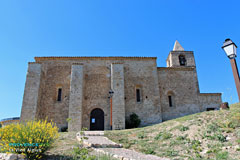 When you reach this exceptional site rich in history, climb to the graceful yellow-stone church that stands atop its highest point. It is in a superbly solitary setting, in the middle of a superb Provencal landscape of culitvated fields and oak forest, with in the distance, the blue hued peaks of the Alpine foothills at
Digne
and the
Verdon
massif.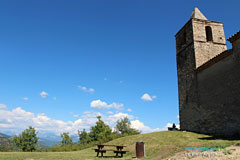 After a walk round the church, and having contemplated the 360° panorama at the same time, perhaps it's time to sit down for a little picnic in a pastoral setting, at one of the wooden tables provided for the purpose.
At the same time why not dream yourself back to the boom period of the old village of Aiglun, in the 16th century, the very period in which this superb church you have before you was built.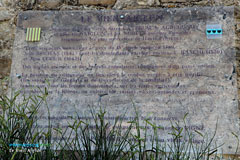 Known as "Aiglun la Noble" due to the presence of seven noble families, Aiglun was a fortified village of more than 200 inhabitants at the period.
Not forgetting the chateau of the Beau de Rochas family, whose descendant, Alphonse (1815-1893), invented the four-stroke engine: a little known engineer in his lifetime, he died penniless.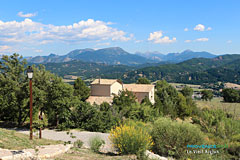 The village was abandoned in the thirties. What remains of the old village was very recently renovated (in December 2001), and a rural gite has been opened. As for the new village, no doubt it is a pleasant place to live, with its modern amenities, Business Park and Heliotherapy clinic.
The latter is installed in an old 17th century chateau and uses the beneficial effects of the sun, which is abundant in this favoured area, to treat skin conditions.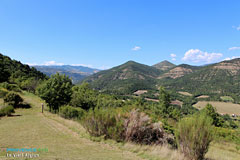 Finally, Aiglun can boast having seen Napoleon come by here on his return from Elba, in March 1815. There still remains to this day the true route of the "Route Napoleon", named the "Voie Imperiale" (Imperial Way).
You will be able to admire in particular, a magnificent stone gateway, or take a stroll or a mountain bike ride following in the steps of the Emperor!.
What to see
The 16th century Romanesque Ste Marie-Madeleine church.
The remains of the chapel of Saint-Jean (12th century, above Thoron).
The true route of the "Route Napoleon".
The tomb of Mathieu Autric de Champtercier in the cemetery, a flag lieutenant under the Emperor Napoleon.
Leisure activities
Golf, gliding, equestrian sports, nautical sports.
Hiking and mountain biking (in particular on the Imperial Way).
Holiday rentals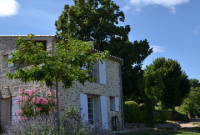 3 Charming catering houses of 68, 100 & 135 m² for 2 to 8 persons
In a 15th century village
Swimming pool - Calm - Panoramic views
Accomodations
Bed and breakfast.
Gites - Holiday rentals