Moustiers Sainte Marie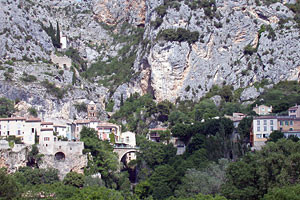 Located at the entrance to the Gorges du Verdon Canyons, Moustiers Sainte Marie is a first rate place for earthenware tiles.
Having 14 workshops and 22 sales outlets of earthenware tiles, Moustiers is the leading area for this craft in France and has a world wide reputation.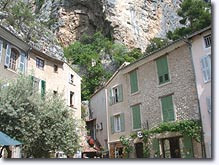 There is a little lake here of 6 ha. which is very well equipped, Because of its port, its boat club and its activity house, Moustiers is one of the most attractive spots of the Emerald Valley.
The site is exceptional and quite amazing. Moustiers is set in a semi circle of rocky cliff at 630m. altitude.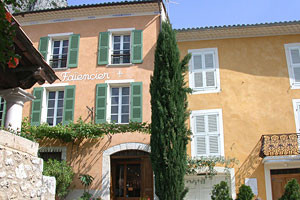 Two peaks at either end of this cliff are linked together by an iron chain (227m. long) on which is hooked the star of one of the knights of the Crusades.
At each season Moustiers offers wonderful walks either in the heart af the village (the architecture is surprising) or in the outskirts ( waterfall of Rion, Notre Dame de Beauvoir, the grotto of St. Madeleine
Leisure activities
Hiking, horse riding.
Mountain biking. Climbing, gliding. MICROLIGHTING. Hang-gliding.
Sailing. Windsurfing. Canoeing.
River rafting.
Hotels
Holiday rentals
Campings