Allos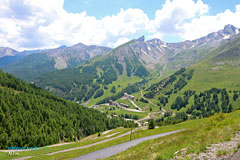 Val d'Allos comprises the village of Allos and two ski resorts: Seignus at 1,500m and la Foux at 1,800 m.
Allos is fortunate in having within its boundaries the largest natural high altitude lake in Europe (at 2,230 m) and in this way can offer a variety of activities both in summer and winter in thmiddle of magnificent landscapes: nature here is untouched and the sun is (almost) always shining.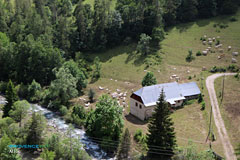 Val d'Allos was founded in 1989, and is one of the largest skiing areas in the Southern Alps with 165 km of ski runs.
- La Foux d'Allos resort was founded in 1937. Its architecture entirely in wood gives it a very distinctive character but its major asset is above all its immense skiing area: La Foux offers the advantage of ski runs on five slopes that enjoy the sunshine in succession.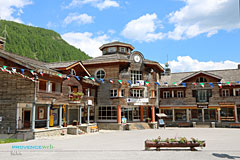 Its skiing area joins the Pra-Loup resort when the snow coverage makes this possible, thus forming the Espace Lumière, a skiing area of 230 km of ski runs for the pleasure of both beginners and experienced skiers.
From 1,600 to 2,600 m, the landscapes here are magnificent, right on the edge of the
Mercantour National Park
.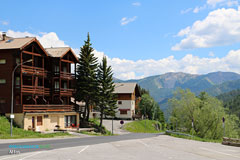 From the top of Vescal or Pouret there is a fantastic view of the cirque of the Verdon sources and the Upper
Verdon
valley.
This is where the famous Verdon rises, at the foot of the no less famous Allos pass (which still has traces of the Tour de France passing through in 2000). Please note: it is closed from November to May. La Foux d'Allos is 9 km north of Allos and 7 km south of the Allos pass.
- Seignus resort was founded in 1936, 7 km downstream from La Foux. This village resort is appreciated as much by skiers as by non skiers: there are numerous excursions available, a cable car to take you to Allos village, cross-country skiing in the forest, snowshoeing of waymarked trails, a kindergarten with a site reserved for learners. This is a family resort par excellence, offering real skiing possibilities for all in a protected environment. (50 km of downhill skiing runs, altitude difference of 1000 m).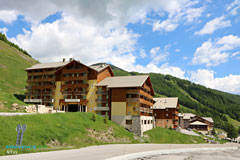 In summer you have a fabulous choice of activities to plan your holiday. "Paradis des enfants" is a leisure park installed in a beautiful environment of greenery and proposes a multitude of activities and facilities: games, pedal-boats, canoes, archery, climbing, trampoline, mini-golf, golf driving range, giant chess board, tennis, in addition to a 15,000 m² man-made lake with water slide for bathing and fun, for young and old!
You will be able to take advantage of more than 1,000 km of trails in the Val d'Allos that have been waymarked. Both experienced and less experienced walkers will find an outing to suit them, and it will enable you to discover the magnificent landscapes and natural setting that surround Allos.
In certain places there are viewpoints of the Pelat massif and the
Mercantour National Park
that are unique.
The hike to Allos lake is a beautiful excursion: follow the D226 from Allos for 13 km, use the car park located at the terminus. Allow for approximately 1 hour for a leisurely walk to the lake, along a trail of discovery of landscapes and plant life. At the lake, you will not be disappointed by the grandiose sight of this mass of azure blue water nestling in the shade of a cirque whose naked peaks tower over a green carpet of flowers, larches and firs.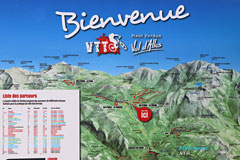 Experienced walkers (with the right footwear) will be able to go on to Mont Pelat (3,050 m) to enjoy the breathtaking panorama from this height and loop round from there to the Petite Cayolle pass and to the Pas du Lausson (allow for approximately 6 hours of walking with an altitude difference of 620m).
What to see
Notre Dame de Valvert churchdating from the 13th century in Romanesque style (concerts in summer).
Allos natural lake (600,000 m²).
Leisure activities
Hiking, cycling excursions, mountain biking and horse riding
(1,000 km of waymarked trails in the Val d'Allos).
Paragliding, archery, fishing (no permit required) and white water fishing.
Electric 4x4s, quads circuit, tennis, basketball.
Downhill mountain biking with ski lifts (Seignus).
Leisure park. Summer events. Disco.
Winter :
Downhill skiing, cross-country skiing, kindergarten with children's activities, child-minding, initiation centre.
Toboggan area, ski excursion itinerary, snowshoeing itineraries, paragliding.
Driving on ice, ice rink.
Events. Disco.
Accomodations
Hotels.
Bed and breakfast and table d'hotes.
Furnished rentals.
Country gîtes. Hiking gite.