Le Haut-Vernet
Via the D900 road from Digne, after Col du Labouret, then take a right, the D457.
Population : 100 inhabitants - Altitude : 1,200 m.
Discover the small village of Le Vernet in the Alpes de Haute Provence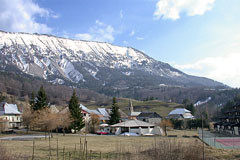 Le Vernet is a lovely village with 300 days of sun a year ! It is located on a vast high plateau, at the foot of a majestic mountain cirque (whose highest point reaches 2800 m). It is surrounded by large green meadows, the playground for a few children.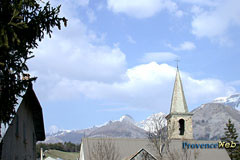 Le Vernet has exceptional botanical wealth. The thing to do is to take the botanical trail leading along the bank of the Bes river that flows through the village, to admire the numerous plant species, some of which are very rare and protected, such as the Bérard thistle and white edged primrose.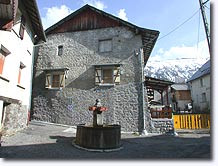 Although such a marvellous site encourages open air activities above all, you'll enjoy a little stroll through the village, not only because of its surprising alpine style houses with their cambered walls, wooden balconies and mansard roofs but also by the peacefulness that reigns in this quiet village, not to mention its little square decorated with a lovely (wooden!) fountain and its small stonework church with a Romanesque style bell tower.
This village was deeply affected by the still unexplained disappearance of "le petit Emile" in July 2023.
Leisure activities
Walking, horse riding, cycling, skiing. Fishing.
Skiing in the small Grand Puy resort (1300 to 1800 m above seal level, 20 km of ski runs).
Tennis. Horse riding (Pony-club).
Bès botanical trail.
St Pancrace festival (Whit Sunday).
Alpage festival and the Provence festival (mid-August).