Villars Colmars
Departement of the Alpes de Haute Provence - Pop.: 240 inh.



Via the D 955, 25 km north of Saint-André-les-Alpes and 14 km south of Allos.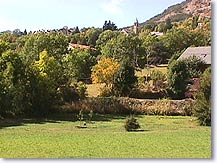 Overhung by a grey rocky cliff, Villars Colmars is a large mountain village, built on a gentle slope, between lush green meadows and forests, in the marvellous Upper Verdon valley.

From afar, Villars Colmars does not exactly show its best side, with its large grey houses whose tin roofs are mostly rusted!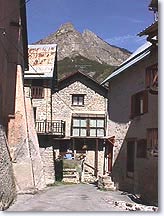 However, upon entering the village, surprise: you will be captivated straight away by the slightly austere medieval atmosphere that reigns among these very old stonework houses forming such a harmonious scene.

Your visit will begin at a large fountain sheltering under a stone archway.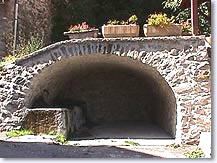 Going up the main street that leads gently to the top of this rather sprawling village, note the tall houses with their buttress walls, and the shutters, balcony handrails and stairs in brown wood, all the work of a local craftsman, which contributes to the harmony of style in the village.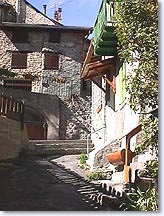 As you enter the village, it becomes prettier and prettier, increasing in charm: with its sumptuous covered wash houses, full stone fountains, old doors, paved vaulted passageways, and magnificent houses restored to perfection, connected by picturesque wooden footbridges, surrounded by luxuriantly blossoming gardens.

In Villars Colmars, one can become very enthusiastic about seeking out the traces left by the centuries past, from the sundial dated 1699, very worn with age, to indications like bar-tabac or shower half erased not to mention the door lintels dating from the 18th century, or a 19th century oratory.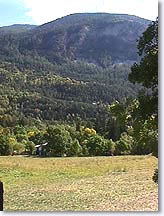 In a majestic natural setting, among the firs and the larches, on the edge of the Verdon river, and endowed with a bracing Alpine climate, Villars Colmars is also fortunate in that is possesses a very fine architectural heritage· which for the most part is little known.

Here, there are few tourists, just some holiday homes for people from the coast or other inhabitants of Provence seeking a peaceful natural setting.

A village made for lovers of the real thing: let the frivolous be forewarned !




What to see:
St Blaise chapel.
Museum.


Leisure activities:
Walking. Swimming pool.
Tennis. Horse riding. Cycling.
Fishing (in the Verdon). In winter, downhill skiing, cross-country skiing, (Rateri or Colle St Michel cross country ski resorts, Foux d'Allos and Seignus ski resorts).
Paragliding and hang-gliding at St André les Alpes (25 minutes away).


Accommodation:
Hotel-restaurant.
Chalet rentals.
Campsite.


Neighbouring towns and villages:
Colmars les Alpes (3km), Beauvezer (3km), Allos (8km), Thorame Haute (10km).