'; //-->
Braux
Alpes de Haute Provence Departement - Population : 123 inh.



Via the RN 202, then take the D 110 8 km before Annot, and drive for 7 km.



The winding but well-surfaced road leading to Braux is simply marvellous, just like the scenery of sandstone cliffs (the famous "Grès d'Annot") and the verdant fragrant countryside dotted with beautiful old stone barns, some of which are for sale.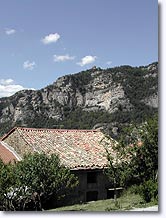 The area surrounding the village has chestnut tree forests, where some of the trees are 600 years old, as well as fruit trees and little gurgling brooks. In the outskirts are recently built houses with delightful gardens.
In a peaceful spot, opposite a rocky outcrop that climbers will love, Braux is an old but lively village, where children play in the streets, and people chat and gossip sitting on the church steps ... and where everyone will say hello to you!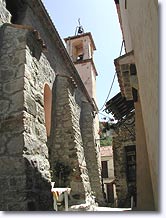 How pleasant it is to wander along these cool winding back streets, spotlessly clean and recently cobbled, admiring a covered passageway with a timber roof, some fine old stone houses, colourful façades with pink or yellow roughcast and decorated with window boxes, plus the large fountain and its basin a hundred years old. Then you can enjoy a drink at the café terrace at "Place de la mairie", shaded by ancient plane trees...






What to see:

Leisure activities:
Numerous hiking paths.