Demandolx
Against the backdrop of the rocky barrier of Crémon, the village of Demandolx overlooks the lakes of Chaudanne and
Castillon
, offering a magnificent panorama reminiscent of the Norwegian fjords, where the deep blue of the lakes shimmers in the green setting of the mountains.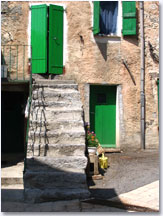 Take one of the miniscule alleyways in the old centre and you'll take a journey through time, between the old barns, either beautifully restored or abandoned.
The rest of the village is made up of spick and span recently built small houses, with brightly painted fronts and gardens, grouped in a new quarter with magnificent view of the lake and valley.
With its pavements, street lights and brand new paving slabs, a large spotless modern car park decorated with flowers, Demandolx exudes cleanliness and quality of life.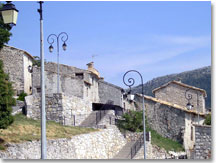 Although the ruins of the chateau and original village, still remaining in the "ville" quarter constitute one of the rare points of interest of Demandolx, the strong point of the village of course is the landscapes of high wooded hills, which have magnificently wild.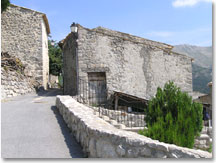 With its excellent air, unobstructed views, cleanliness beyond reproach and tranquillity, Demandolx will no doubt delight tourists such as the Germans for example that we met during our visit!
What to see
Castle ruins.
Leisure activities
Hiking.
Nordic skiing resort (25 km of runs) at Vauplane, at the St Barnabé pass (1365 m).