Faucon de Barcelonnette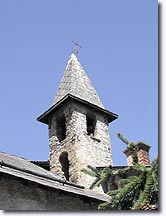 Faucon de Barcelonnette is a tiny village built on the gentle sunny slope of a hill overlooking
Barcelonnette
.
It has two access roads and two small signs that you must look out for so as not to miss them.
This explains why the oldest village in the valley, whose site may have been inhabited since Roman times, enjoys its absolute peace and quiet as much as its panoramic view !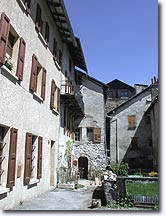 Although it was an important village in the valley in the Middle Ages, today it is made up of a few scattered houses surrounded by green meadows, with several high peaks as a backdrop, but Faucon's history is astonishingly rich.
On the little square in front of the mairie stands the proud Clock Tower, a square structure with a round steeple, rebuilt in the 16th century on the foundations of an 11th century Romanesque church. It really is a fine looking building !
The church of St Etienne, rebuilt in 1872 on a Romanesque foundation, has a nicely restored blue coloured sun dial on its façade and inside a beautiful fresco representing the Assumption of the Virgin.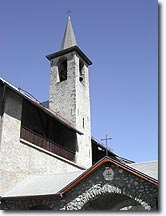 But the must is the
Trinitarian convent
(17th century), with its garden (20,000 square metres) and its chapel (18th century), etc.
Though it was rebuilt at a later date, the convent was initially erected in 1193 by Saint Jean de Matha, a native of Faucon and founder of the Trinitarian Order.
The Trinitarian convent projects an image of beautiful harmony in a peaceful setting, where those in search of spirituality or simply a place to meditate can go on an individual retreat...
What to see
The church of St Etienne.
The Clock Tower.
Accomodations
Bed and breakfast.
Holiday centre.