Les Thuiles
Populatin : 400 inhabitants - Altitude : 1,100 m.
Discover the small village of Les Thuiles in the Alpes de Haute Provence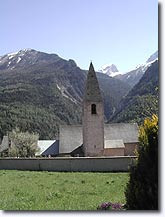 Les Thuiles is a small village in the Ubaye valley - taking its name from the old pottery factories - It lies on the banks of the Riou Bourdoux, this turbulent torrent that is today controlled by man.
The houses and wooden chalets of Les Thuiles spread out over a grassy slope, in a heavenly setting of green meadows and high mountains.
Clinging to its hillside, the entire village seems to be setting itself against the breathtaking rocky outcrop of La Grande Séolane, that peaks at 2,900 metres !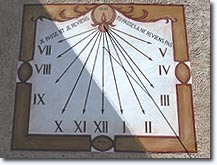 You will be astonished by the noble appearance of its St Martin's church, modest and proud, with a beautiful square clock tower and slated roof, decorated with a superb sundial that bears the inscription : "I pass and then return, you pass never to return" - words to meditate on !
Stroll up one or two of its sloping streets, and you will envy the happy owners of these pretty chalets with gardens, who are lucky enough to live in such a beautiful and serene environment.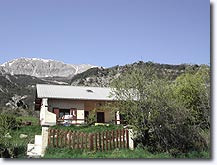 And perhaps (if you are lucky enough, as we were during our visit), the old lady sitting on the bench in front of the church will tell you the story of its inhabitants in the previous century who were driven by poverty to exile in Mexico.

What to see
Saint Martin de Tours church (1525).
Leisure activities
Rafting. White water swimming. Canoeing. Hot-dog.
Hiking (lakes and Tête de l'Aupillon).
Tennis. La Fère discovery trail.
Accomodations
Hotel.
Holiday retals.
Campsite.