Beauvezer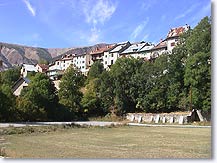 Beauvezer is a pretty Haute Provence village perched on a hillock in a very green area in the heart of the upper
Verdon
valley.
Surrounded by superb mountain landscapes (opposite the impressive 2693m Grand Coyer mountain)Beauvezer has the good fortune of being only a stone's throw from the most beautiful ski resorts in the department (Le Seignus and La Foux at
Allos
).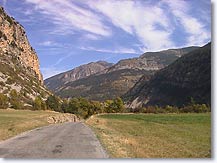 From the D955, you will first glimpse the village houses in a tidy line past a row of immense trees growing in a clearing below them.
In this same clearing, don't miss the "Maison de Produits de Pays du Haut Verdon" (Local Produce Shop) where you can buy honey, cooked pork meats and mountain cheeses made on the spot, discover local arts and crafts (wool, wood, etc.) and even learn to make your own genépi liqueur!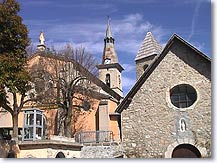 Up until the middle of the 19th century this impressive building used to house a large cloth-mill. Beauvezer and
Colmars les Alpes
were both major textile centres.
If you walk along the main panoramic street in the old village, you'll immediately be taken by the charmingly pretty square lined with old stonework houses with a nearby church, chapel and fountain, plus a restaurant with a lovely shaded outside area for dining in summer.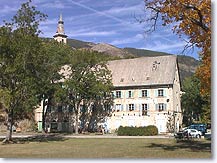 Strolling along, admiring the peaceful little streets in Beauvezer is a pleasant experience. It is hard to resist the charm of the gurgling fountains, beautiful, very ancient stonework façades, small flower-lined courtyards and squares, and the age-worn doors faded by the sun and the snow.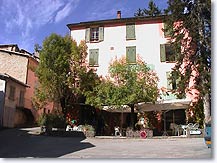 Some of the houses have a very distinctive character thanks to the blend of Mediterranean colours and mountain style architecture, with wooden or wrought iron balconies.
The area surrounding Beauvezer is a superb, fragrant, protected natural setting as yet untouched.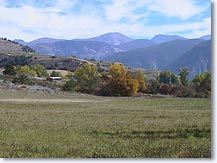 There is a very pleasant walk along the St Pierre gorge cross the D955, and make your way to Villars Heyssier. Then take a waymarked trail leading to the St Pierre Chapel and the gorge that was cut out by a tributary of the Verdon.
The walk is a little steep, but from the ledge you will have very impressive views of the gorge with its grey schists and ochre and whitish coloured limestone rock (The round trip takes about 2 hours on foot at an easy pace).
What to see
St Joseph chapel (village main square)
Leisure activities
Walking. Swimming pool. Tennis. Table tennis.
A man-made lake.
Downhill skiing, cross-country skiing.
Accomodations
Hotels
Bed and breakfast.
Rural gites.
Campsite.