Velaux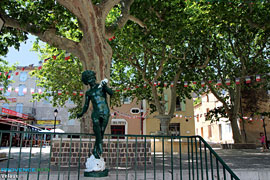 Velaux is a lovely old Provencal village, perched high on a mound and dominating the plain in the area to the west of
Aix en Provence
.
It is ideally situated at the centre of the
Aix
-
Marseilles
-
Salon
triangle and at the same time is surrounded by beautiful, lush countryside and vine-covered slopes. Velaux combines the tranquillity of the countryside with close proximity to the region's main urban centres.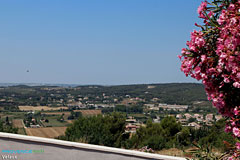 From the plain you will see the village, high up in the distance, built on the side of a gentle slope.
Gradually descending towards the plain, recently built houses are dotted across the hillside, bearing witness to the rapid growth in the population of Velaux.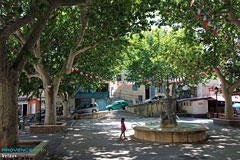 After several hairpin bends, you will arrive in the village at the Place Francois Caire, which is the village square. Beautifully shady and graced with a pretty fountain, this is the square where everything happens.
Here you will find the town hall, the bakeries, the grocer's, the tobacconist, the newsagent and, of course, the bar.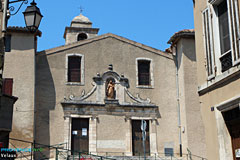 Children play in the square, several cats stretch and get ready for their siesta and old men chat on a bench, canes in hands...
Sitting on the terrace of the cafe you can observe little scenes in the everyday life of the village.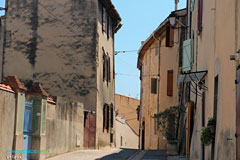 The square is surrounded by narrow, winding, steeply sloping streets that climb up into the village.
On the right you can visit the lovely church, then, as your walk takes you on, you will come to several beautiful old houses, their venerable doors marked by time. In Rue du Chateau d'If you will notice a fine residence (a sort of small chateau) which has been carefully renovated and restored.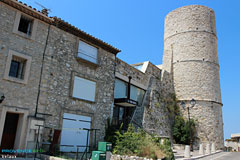 In Rue Tour you will find the
Velaux Museum
, "Le Donjon" which houses the memories of Velaux: archives, old tools and Provencal period costumes, as well as archaeological artefacts.
It is important to point out that excavations have brought to light a Celto-Ligurian sanctuary dating from the first millennium before Christ, with some superb sculptures, of which the two-headed Hermes and seated Hero are displayed in the Borély Museum in
Marseilles
.
Leisure activities
Market on Thursday and Saturday mornings.
Walking.Tennis. Boules.
Summer events.
Accomodations
Bed and breakfast.
Vacation rentals.