'; //-->
Ventabren
The Bouches du Rhone Departement - Population : 5,201 inh.



14km West of Aix en Provence, 21 km from Salon de Provence and 40 km from Marseille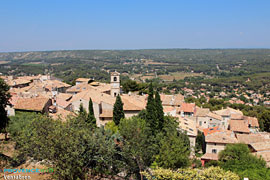 Ventabren is a very pretty village, perched at the top of a hill and dominated by the ruins of the Chateau of Queen Jeanne. Ideally situated in the middle of the Marseilles-Aix-Salon de Provence triangle.
Ventabren boasts a picturesque Provençal backdrop and countryside, while being less than 30 minutes away from a major urban centre.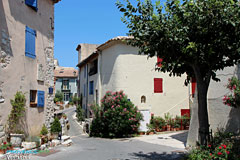 Ventabren has developed considerably over the last few years and has graduated from being a small Provençal village to become a vast residential municipality, with new houses mushrooming and extending below the village on to the plains which surround it.
In the village you will quickly fall under the spell of the little cobbled, streets, full of flowers and lined by beautiful stone houses which have been painstakingly restored.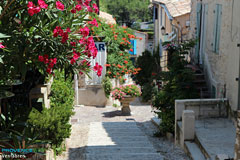 You will come to the Grande Rue (which is actually very small!) climbing steeply up to the charming little Place de l'Eglise.
Many of the doors of the houses are very old, flanked by lush greenery and shutters which have been repainted in traditional Provençal tones, already a little faded by the sun. You will find pretty fountains and wash-houses and a 17th-century church.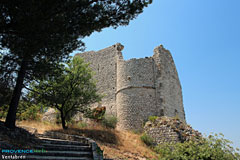 Make sure you visit the ruins of the chateau de la Reine Jeanne. From the foot of the ruins you can enjoy a wide panoramic view over the Etang de Berre (which looks like a tiny lake from here), the Etoile chain and Vitrolles.
Ventabren is unique in that it boasts the largest stone aqueduct in the world!
To see it, leave the village and follow the signposted route. The Roquefavour Aqueduct was constructed by a young 26-year-old engineer, Franz Mayor de Montricher, in the middle of the 19th century (1842-1847) to transport water from the Durance to Marseille.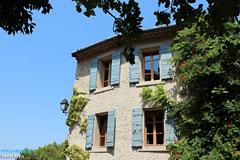 The city of Marseilles was in desperate need of water to counter the fatal droughts it was suffering. The Roquefavour Aqueduct was a success, its designer received great honours and Marseilles was eternally grateful to him for having saved the city from drought.
You can explore the aqueduct which has three tiers of arches and is 400 metres long and 83 metres high. The Pont du Gard is 266 m long and 47 m high ...a miniature in comparison!!!






What to see:
17th-century church.
Remains of the Chateau of Queen Jeanne.
The Old Mill.
Roquefavour Aqueduct.
Ventabren Museum : archaeological museum depicting the history of the village from prehistory to the Middle Ages (open Saturday and Sunday afternoons, admission free).


Leisure activities:
Market on Tuesday mornings and Friday afternoons (Aire de la Cooperative).
Walking, mountain biking.
Tennis. Boules. Motor-cross.
Summer events.


Accommodation:

Bed and breakfast.
Holiday rentals- Gites.


Neighbouring towns and villages:
Coudoux (6 km), Velaux (8 km), Eguilles (9 km) and La Fare les Oliviers (10 km).