Larche
Via Larche pass from Italy (70 km from Cuneo) or via the D900 from Barcelonnette (26km). Nearest train station at Gap (100 km).
Population : 100 inhabitants
Discover the small village of Larche in the Alpes de Haute Provence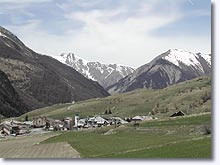 The small village of Larche is located very close to the Italian border, at the foot of Larche pass (which the Italians call "Colle della Madellena").
It is lulled by the music of the Rouchouze torrent, and nestles in a majestic high mountain site.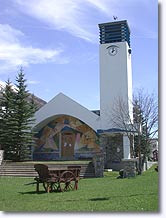 It was entirely destroyed during the last war, and so was rebuilt relatively recently. It has been awarded the "flowered village" label as a reward for improvements carried out.
You will enjoy its wide streets lined with very clean footpaths, well trimmed lawns and flower beds.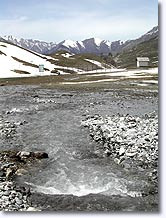 In winter, Larche becomes a cross-country ski resort (30 km of ski runs) in the fairyland environment of Lauzanier vale, where you will be able to ski in the company of snow hares and partridges.
In summer, Larche is a paradise for hikers, whether or not they are experienced.
They will be able to enjoy the numerous waymarked paths that run alongside the torrents, winding their way through the undergrowth or along ridges, leading to mountain pastures covered with flowers and mountain lakes of rare untouched natural beauty.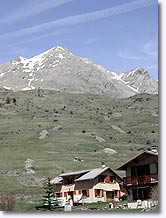 Climbing enthusiasts will appreciate such renowned rock faces as "Tête de Moïse" or "Aiguilles d'Oronaye". Cycling enthusiasts will sweat their t-shirts off climbing to Larche pass (1,991 m!)...
Larche is an untouched corner of paradise far from the crowds !
What to see
Notre Dame des Neiges, a modern chapel (20th century).
Church of Ste Marie Madeleine de Maison Méane.
Notre Dame des Lumières church.
In the cemetery, there are some spectacular tombs built by locals who made their fortune in Mexico.
Leisure activities
In winter
Cross-country skiing (30 km of waymarked ski runs for skating and traditional style).
3 ski lifts for downhill skiing.
In summer
Walking, Mountain biking, bicycle touring.
Accomodations
Hotels.
1 Inn Gîte. Municipal gîtes,
1 children's centre chalet, 1 Gîte for hikers.
Campsite.