Meyronnes
Population : 40 inhabitants
Disover the hamlet of Meyronnes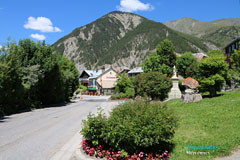 Meyronnes is a modest little village located in the Haute Ubaye valley, on the banks of the Ubayette river. It is built on a grandiose site at the foot of a breathtaking cliff just made for climbers.
Though the village was destroyed during the last war, it has been adequately rebuilt, with its few big square houses, brightened up by their vivid red, green and blue shutters as well as the peaceful green lawns.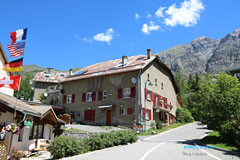 While in the municipality, be sure to visit the hamlet of St Ours, perched at 1,800m above sea level and endowed with a Via Ferrata that can be used in both summer and winter (700 metres of breathtaking rock face!).
According to legend, girls that were to be married within the year and those with incurable illnesses used to go up to the small perched village of St Ours to find a remedy for their woes). These days, it is more likely to be mountaineers that go up there!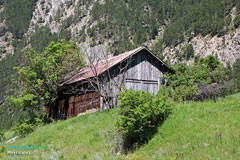 Military history enthusiasts also visit the Roche la Croix fort, one of the most powerful artillery structures in the Alps, and part of the Maginot line (there are still pillboxes, one of which contains an impressive turret with disappearing mounting).
There is also the Fort of Saint Ours: like a sub-marine, it accommodated 260 men and ... a power generating plant.
What to see
Fortifications at St Ours Haut, St Ours Bas, Roche-la-Croix.
Viraysse Fort (2,772m), Meyna Tower, Rocher de Saint Ours tower.
New : a museum area (entitled "St Ours Bas... a submarine in the mountain") explains the geography of the fortification, military life and its impact on the local life style.
The Rochaille discovery trail (the changing landscape, military history and past, botanical heritage.)
St Ours stations of the Cross.
Leisure activities
Saint Ours Via Ferrata, site with climbing facilities.
Nordic ski touring, hiking, Mountain biking, climbing, bicycle touring.
Walks in the Silve forest, to Mirandol or Vallonnet passes.
Saint Ours festival (in June) and the Children's Festival at Meyronnes (in August))
Accomodations
Gites and holiday rentals.