Seyne les Alpes
42 km Noth of Digne. From A51 Motorway exit at Digne or by the RN 85 to Gap (from Grenoble), and then the CD 900 to Seyne. SNCF station at Gap connected by bus in 45mn.
Population : 1,500 inhabitants
Discover the village of Seyne les Alpes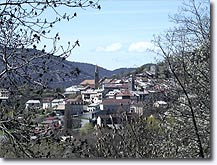 The charming village of Seyne les Alpes occupies a strategic position at the heart of the verdant Vallée Blanche.
Seyne les Alpes is one of the "villages of character in the Alpes de Haute Provence", and is also classified as a "rural holiday village and snow village".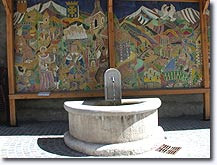 In other words Seyne is a tourist village which is really worth the detour (even if the road leading up to it appears a bit long!).
The surrounding natural character has preserved in authenticity and just incites you to explore on long walks where you'll discover a vast array of flora and fauna.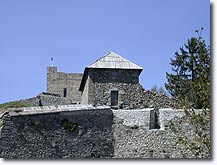 This village stands proudly against the backdrop of the Roubine hill. It is crowned by the Fort Vauban and its large Medieval Tower.
It is located in a wide valley surrounded by a cirque of high mountains (up to 3,000 m) and wooded hills.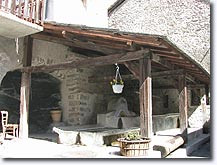 When strolling through the narrow streets of this old village of lopsided houses with faded pastel facades, you will be able to admire some old stone houses and may notice a door (such as n°11 on the Grand'Rue, the former Trois Rois hotel) or a Medieval archway, a corbel or perhaps an impressive old wash house with its wooden raftered roof.
The highlight of your visit will of course be the massive grey stone citadel that overlooks the village. As a former border town, Seyne was fortified by Vauban by order of Louis XIV at the end of the 17th century.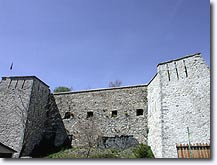 A fort, ramparts and bastions encircle a 12th century watchtower. Today a visit to the "citadel" (with slide show) is a "must".
Inside the village, rue du Barri, do not miss the Forge eco-museum that shows representations of how craftsmen worked in the past.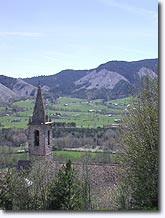 While there is an entrance fee, access to the front part of the fort is free of charge. From the top of the ramparts, you will have a magnificent view of the valley, perhaps through the arrow slits, and even have a little picnic on one of the beautiful wooden tables provided for this purpose !
Close to the Serre Ponçon lake and three winter sports resorts Seyne les Alpes offers a wide range of activities. As lively in summer as in winter, the village benefits from maximum sunshine in all seasons. There is something for everyone, whatever your tastes, age, or sporting conditions.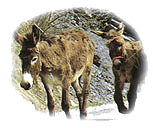 Don't miss the mule races which normally take place the second Saturday in August paying homage to a long tradition of mule rearing.
This animal which despite its sweet nature is a sturdy worker was once the only practical form of transport because the roads were almost inexistant. Mule trading made Seyne a uniquely prosperous place in the Alpes de Haute Provence right up until the end of the 50s.
Today these kind animals have entered into the folklore, they will calmly accompany you on long walks, carrying your baggage and if necessary tired children (... some of whom are happy to remain tired !).
What to see
Notre Dame de Nazareth (XIII° century), the church was listed as a historic monument in 1842.
Roman art. Sacré Coeur Chapel.
The Dominicans chapel with its triangular bell tower and decorated with fine art work inside.
Citadel built in 1693 following orders from Vauban.
Grande Tour (XII°). The Penitents Bastion (XVII°).
Haut Chardavon church with beautiful XVII° retable.
La Forge Ecomusum.
Leisure activities
Markets Tuesday and Friday morning.
Hiking, Pony Trekking and Mountain biking (signed paths, guide, mountain bike hire, guides).
Hiking with mule transport (the mule carries your baggage and small children, themed trails with accommodation and meals are available).
Sleigh rides. Climbing. Tennis. Swimming Pool.
Para-gliding, Hang gliding, gliding, Bi-Cross. Mini-golf. Archery.
Nearby: downhill and cross country skiing, snow shoe walks (Chabanon, Grand Puy and St Jean de Montclar.)
Water based leisure activities on the Serre Ponçon lake.
Exhibitions, seasonal animation: mule races in August, Horse fair in October, crafts fairs, music festival July...
Accomodations
Hotel-restaurants
Bed and breakfast.
Furnished holiday rentals.
Campsites.