Saint Benoit
Population : 85 inhabitants, Altitude : 600m.
Discover the small village of Saint Benoît, near Annot
Saint Benoît is a tiny farming village perched up high. To get there you have to take a narrow road where you may meet a tractor, and you'll also glimpse a few cows in the fields! Saint Benoît is surrounded by poplars, fir trees and poppies, in a beautiful natural setting where greyish rocks eroded and scoured by erosion stand in the middle of verdant meadows among wooded hills. In front of the "mairie" is a small square, where the house façades have been recently painted. A brand new circular fountain stands in the middle of this square, abutting a wash house with a tiled roof.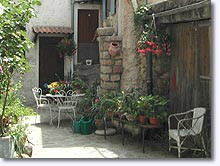 How lovely it is to stroll along these pretty little peaceful streets lined with low houses, discovering a flower-filled terrace now and then, or a restored covered passageway, a little church with its bell-tower built into a wall, some fine yellow-stone houses, etc. There are even a few old barns that need renovating, and some of them are for sale: if you like authentic old buildings, take note!
Peace and tranquillity are ever-present at Saint Benoît. On a fine day, the inhabitants like to take lunch outside, in their garden and organise a barbecue ... in the street!
What to see
Pont de la Reine Jeanne (hump-backed medieval bridge)
Two churches (one dating back to the 16th century)
Caves (prehistoric dwellings)
Leisure activities
Randonnées pédestres.