Saint Geniez
Population : 100 inhabitants - Altitude : 1.200 m.
Discover the village of Saint Geniez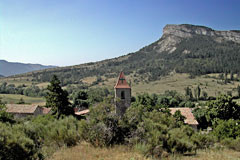 When you take the narrow minor road that climbs up through the undergrowth to St Geniez, you are on the "Time Trail", enabling you to discover geological curiosities, such as the stratified cliffs that look like folds in elephant skin, or are cut into "mesas", in the transverse valley of Chardavon.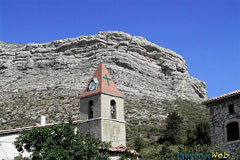 You will first reach a superb high plateau from which the prairies of Chardavon spread out - wheatfields surrounded by larches - and then discover the village of Saint-Geniez. It is overlooked by a vertical rocky ridge topped with fir trees, stretching between the Gourras mountain and the top of Trainon. This is said to be the landscape that inspired Giono for his novel "Que ma joie demeure".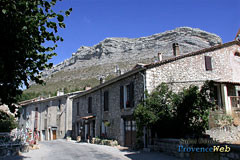 Although the village is small and modest, without any major historical or cultural heritage - just a few sparse grey houses, a square shaded with chestnut trees, a small fountain and a bell tower with a weather cock in the shape of a cockerel - animal lovers will have a great time in the Wildlife Park. Here in the superb mountain landscape of forests and strangely wrinkled cliffs, they will be able to admire wild boar, Sitka deer, fallow deer, mouflons, peacocks, goats, donkeys, ponies, hens, turkeys,Muscovy ducks, mallards and guinea fowl and many others...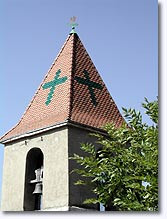 Nature lovers will be in seventh heaven in Saint Geniez! Enjoy the bracing air and the birdsong, the sublime landscape worthy of an American national park, the outcrops of rocks shaped like teeth or tables, and marvellous paths that wind up to the bare crests (e.g. to the Pas de l'Echelle).
If you decide to stay, take advantage of the site and install a table and chairs in the street for lunch in peace and quiet...
You will be in an ideal position to admire the marvellous rocky spikes eroded over thousands of years!
What to see
Wildlife Park. Dromont Crypt.
Chapel. Vanson gorge. Authon circuit.
Leisure activities
Numerous hiking trails (a national hiking path passes through here): in the Vanson forest, to the Pas de l'Echelle (1 hour 30 mins)...
Accomodations
Farmhouse-inn. Equestrian farm.
Bed and breakfast.
1 gite for hikers- restaurant in the village. Gites.