Saint Martin les Eaux
From Manosque take the D907, then the D105 for 3.5 km, and finally the D505 for 3 km.
Population : 120 inhabitants, altitude : 600m.
Discover the village of Saint Martin les Eaux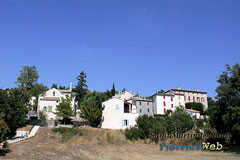 Saint Martin les Eaux is a discreet dry-stone village set against the hills of the Luberon.
Its pastel-coloured houses can be seen above a vast car park, just opposite the silvery domes of the St-Michel Observatory, in an intimate tranquil site of fields planted with poplars.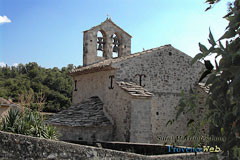 The brand new white stairway leading up from the car park will take you into the village, and it won't take you long to walk round.
Take time to admire the shades of blue, red and green on the shutters, some terraces covered with vines, one or two beautiful stone façades...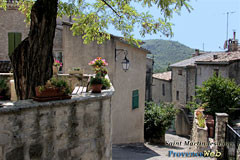 ... and above all don't miss the Romanesque church listed as an Historical Monument, with its dry-stone walls and larch wood roof, a particularly understated "masterpiece of Romanesque art".
With its tractors in action, kitchen gardens and chicken runs, at Saint Martin les Eaux the way of life is still human, slow and peaceful!
What to see
Romanesque church (12th century, historical monument).
Château built by the Lords of Lincel whose main entrance door is listed, and which today houses the "mairie".
Village fountain (bottle-necks), sulphur-bearing springs and salty spring.
Leisure activities
Promenades.
Walking. Exploring the forest (many paths), on foot, mountain-bike or horse-back.
Accomodations
Bed and breakfast. Table d'hotes.
Holiday rentals. Gites.