Val de Chalvagne
Departement of the Alpes de Haute Provence - Pop.: 60 inh. - Altitude: 850 m.



At Entrevaux take the D911, then on the left the D10.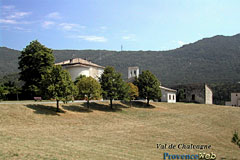 In "Entrevaux country", after Féline pass (930 m), you arrive, as a sign indicates, in "Val de Chalvagne", which is not a real village but is the result of grouping together three hamlets : Castellet Saint Cassien, Montblanc and Villevieille (a recent initiative dating from 1973).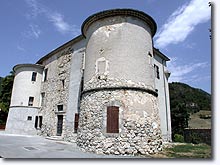 While Montblanc and Villevieille only consist of a few houses scattered through a peaceful valley, Castellet-Saint-Cassien is more substantial, with its "château" that has been split up into flats and is currently undergoing restoration.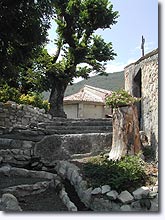 Castellet Saint Cassien is a small cluster of houses bunched around this venerable château, (built in the 17thcentury by the barons of Glandevez),atop a small mound in a broad extremely peaceful valley, resolutely off the beaten track. There is a mini-car park shaded by two lime trees, a vast well kept meadow where you can picnic on one of the wooden tables provided for the purpose, a tiny chapel with twin bells, a large wash house with a tiled roof dated 1922, one or two beautiful stonework Provençal farmhouses surrounded by boxwood bushes, previously the château's outbuildings.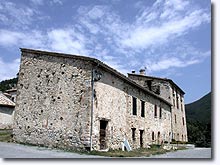 Finally, the château itself is still very impressive with its two round towers. You may even be fortunate enough to meet one of the owners, the "lady of the manor" asleep in her deckchair on the village square!

Pastures, brooks and forests, coolness and good air, perfect peace - to live in Val de Chalvagne, would be far from hell!!!




What to see:
17th century chateau (at Castellet St Cassien).
Remains of a 15th century château (at Montblanc).
17th century church and chateau (at Villevieille).


Leisure activities:
Hiking (the GR 4 hiking path to Entrevaux).


Accommodation:
Residence Club.
G&ites and holiday rentals.


Neighbouring towns and villages:
Entrevaux (10 km) and La Rochette (18 km).