'; //-->
Cavaillon
The Vaucluse Departement - Population : 26,681 inh.



Between Avignon (33km) and Aix en Provence (55km).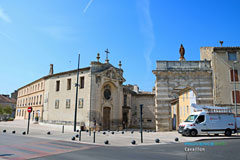 In the Luberon, there is the regional nature reserve to see, and its many perched villages to admire.
It is easy to get to places from here, and one can make short journeys for a day's visit either to the Alpilles or the Luberon.


In the Luberon, there is the regional nature reserve to see, and its many perched villages to admire.
In order to make your visit worthwhile, the Tourist Office can provide you with information on different excursions with themes such as the ochers of Roussillon, the lavender of Lagarde d'Apt, or the stained glass windows of Gordes.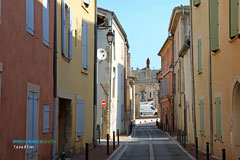 For most French people Cavaillon means first of all -melons! Here it is the king of the market and the merchants will show you how to choose them.
This is the king of the market, to choose it well the Cavaillon merchants will teach you to weigh it, it must be very heavy (so full of sap and sugar), its tail ready to fall and slightly cracked at its base ( sign that it is ripe to be eaten during the day).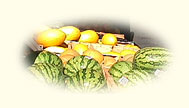 This deserved notoriety and appreciated with each new season should not however make us forget the other charms of Cavaillon.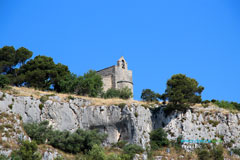 Cavaillon is lucky to have a green hill (St Jacques hill) in the heart of the city, so you can walk in a fragrant and singing scrubland then reach in a few steps the coffee terraces on the shaded squares of the city center or do a little shopping in its pedestrian streets.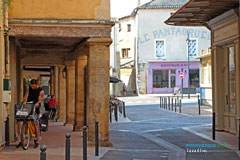 Cavaillon has a heritage which can be visited while strolling through its old districts. You will discover at the turn of small streets and flower plots, one of the most beautiful synagogue in Europe (XVIII°) and its Jewish museum, a cathedral of the XII° and its small cloister, a Roman arch of the I ░ century and beautiful old houses.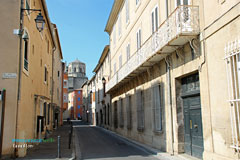 Several circuits have been prepared by the National Fund for Historical Monuments to allow you to better know certain pages of the history of Cavaillon (Jewish heritage, Roman times and popes' period).
The richness of its terroir will no longer hold any secrets for you when you have visited its magnificent colorful and fragrant peasant markets, you will see that it is not just melon in Cavaillon!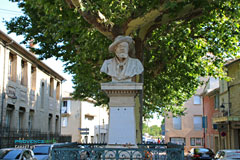 The marked discovery trail of the St Jacques hill will guide you to its summit from where you will have a very good view of the city, the Apt plain, the Luberon, and the Alpilles.
Finally a cycling route was signposted between Cavaillon and Forcalquier (100 km) away from major highways and near a beautiful nature, picturesque villages to cross and warm Provencal to meet!






What to see:
Roman arch (1st c.).
Cathedral and Cloister (12 thc.). Porte d'Avignon.
Chapel du Grand Couvent.
18thc. synagogue and museum.
St. Jacques Chapel and Hermitage. Hotel Dieu Museum.


Leisure activities:
Monday morning market.
Hiking, Horseback riding. Mountain biking.
Swimming pool. Tennis. Climbing. Fishing. Squash.
Cinemas. Numerous summer events.


Accommodation:

Hotels.
Bed and breakfast.
Vacation rentals.
Campsite.


Neighbouring towns and villages:
Cheval Blanc (5 km), Robion (6 km), L'Isle sur la Sorgue (10 km) and St Remy de Provence (20 km).