Archail
From Digne take the D 900 then on the right take the D 22 for 7 km.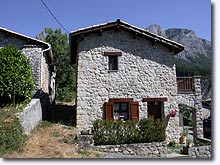 The smallest village in the
Digne
area - 10 inhabitants - (although it had 104 in 1851) is located at the end of the "time trail", which enables visitors to discover the region's geological curiosities - and they are legion at Archail, where lunar landscapes give way to fir tree undergrowth and breathtaking rocky peaks, such as the proud Mont Couard (1,998 m).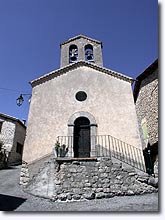 More surprisingly, you will realise that Archail is a charming little village where old round grey stone and Roman tiles are sovereign: small stone walls, stone stairs, dark wood shutters, in Archail, there is no lack of taste, nothing but the real thing!
The air here is gentle, the plants superbly Mediterannean: - fig trees, lime trees, virginia creepers and fruit trees, fir trees and
lavender
- and the inevitable café on the village square, where the basin and its fountain rub shoulders with the church.
Archail has everything to attract those who love authenticity and beauty as much as they do tranquillity!
What to see
Church (restored in 1828).
Geological curiosities.
Leisure activities
Mountain hikes leaving from the village(to the Couard peak for example, 5 hours on foot).
Fishing (in the Bouinenc).