Draix
From Digne take the D900 then turn right onto the D22 for 6 km.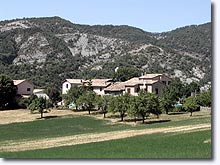 At the end of a minuscule road winding along the Bouinenc valley, passing a thousand and one geological curiosities - stratified, striated grey and black cliffs topped with conifers - you arrive at Draix, a little village nestling in a majestic cirque of green hills, yellow meadows and craggy black ridges typical of the foothills of the Alps near
Digne les Bains
.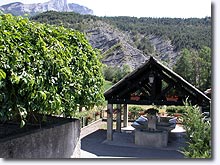 Both amateur and professional geologists will be in seventh heaven when they discover these hills scoured by ravines, in a lunar landscape of black marl clay (sedimentary rock containing a high proportion of limestone), that must be millions of years of old.
This provides an original backdrop to the peaceful village of Draix, all the more so since here the land is fertile. Pines, willows and pear trees grow here, as well as the tomatoes in the kitchen gardens and the wheat in the fields.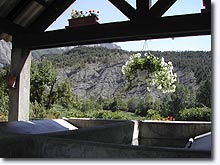 There's little risk of being stressed out at Draix. It's a smart elegant village full of flowers, with its church and wall-belfry (dating back to 1854) standing proudly on the forecourt, its large covered wash-house and two or three streets, where you will be surprised to discover several old stone-built barns currently being restored...
Pure air, fragrances of hay and
lavender
, strolls through the "black lands" ... in Draix you will be left in peace!
What to see
Ruins of a commandery of the Knights Templar.
Small Romanesque church.
Geological curiosities ("time trail").
Leisure activities
Hiking, e.g. the "black lands circuit" lasting 3 hours and also
the summit of Cucuyon (1886 m)or the peak of Le Couard (1998 m).
Fishing (in the Bouinenc).
Accomodations
Furnished rentals.
Gite in the village.