Bayons
>From Sisteron take the D951 then the D1 for 12 km.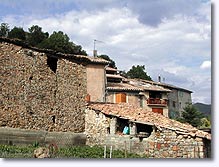 Bayons is a peaceful pastoral village that stretches along its main street. It is located in a beautiful preserved natural setting comprising astonishing folding hills and green meadows with grazing sheep and lambs.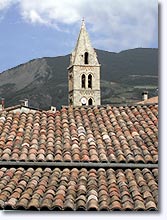 The pyramid shaped square bell tower, you can make out from a distance belongs - surprisingly - to a wonderful Romanesque church built entirely in yellow stone: you will not be surprised to learn that it has been listed as a
historic monument
- and since 1891 to boot!
Inside is a large very high single nave, and an 18th century altarpiece.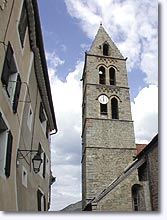 With its beautiful stonework houses, its old fountains and basin, its numerous gardens, kitchen gardens and even henhouses, barns full of hay, dogs and cats, pétanque players and children, youngsters and smiling ancients, sitting in front of their door or preparing their barbecue in the street... Bayons is a lively village! !
After experiencing rural exodus in the past, Bayons has in recent years has had an influx of "neo-rural" people that have decided to turn their backs on urban life.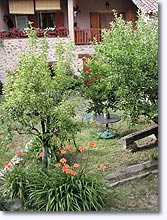 44% of its territory is forest, and is a source of income for the village, which today still has a dozen farmers with cattle, sheep and goats, as well as a woman farmer who grows and distils natural lavender, and who will sell you a small bottle of
lavender
oil !
After a visit to the Grande Gineste sheep barn where the famous Bayons cheese (baptised the Saint-Blaise, name of the patron saint of Bayons) is manufactured using the traditional method, set out for a hike in the Monges massif, a collection of peaks that culminate at around 2,000 metres, bare crests cut through with transverse valleys and gorges.
Geology enthusiasts will read the landscape of colours, folds, double folds and faults like an open book and learn the geological history of the Southern Alps...
What to see
Hamlets of Reynier, Astoin, Esparron la Batie.
The Grande Gineste sheep barn.
Transverse valleys of Bayons.
Leisure activities
Bathing (in the Esparron la Batie lake, 1,500m).
Hikes (starting from the GR6 hiking path, in the Monges massif).
Accomodations
Bed and breakfast.
Country gite. Several gites de France. 1 gite for hikers.
Campsite.