Curbans
Perched above the plain of the Durance, with an uninterrupted view of the lake of Curbans/La Saulce - a man-made lake created in 1975 by
EDF
- the village of Curbans has plenty of character.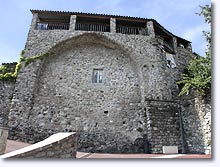 What's more, over the last few years it has been partly renovated - in superb taste: freshly asphalted roads, urban furniture, car parks, brand new pavements and stairways ... just like the many repainted façades.
It is the perfect environment to bring out the charm of old buildings, stone and Roman tiles, especially when they have been "made over" in such good taste.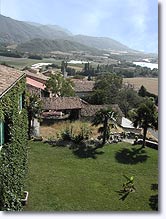 Although not all the village has been rejuvenated at the same speed - part of it has remained as before, with its ruined barns and paths overgrown with weeds - Curban will nevertheless make people jealous: people who dream of a perfect lawn leading down to a swimming pool, in front of the loggia added to a towering medieval stone façade from where you must have a fairytale view of the plain of the Durance river, or in front of a garden looking as if it is suspended in mid-air, shaded by proud cypress trees, where
lavender
and Virginia creeper grow ...
What to see
Old 17th century chateau.
11th century church of Saint-Pierre (in the cemetery), listed in the additional inventory of Historic Monuments.
Bird migration in August at Curbans lake.
Leisure activities
Fishing (in the lake).
Nautical sports on the nearby Serre-Poncon lake.
The "sentier des Contes" (Counts' path) starting from Curban bridge:
"les ordres monastiques" (the monastic orders),
a route by car and on foot (9 hours), an adventure to enjoy with all the family ...
All you need to do is purchase the "magic booklet" (30 euros) to set off on a journey to "the country where rocks talk"!
Information from the tourist office at la Motte du Caire.
Accomodations
Gites.
Furnished rentals.
2 campsites (mobile homes, chalets, caravans).