Claret
From Sisteron, take the N85 heading north, then the D12 for 2 km followed by the D104.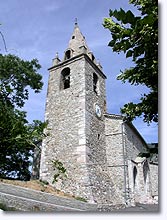 Claret is a large village nestling up high around its church.
It has several brand new spotlessly clean car parks shaded by plane trees, a little square with green and lavender blue benches which look just right, a covered wash-house and picturesque sloping streets, gardens perfumed with
lavender
, a fine perched church,unpretentious houses brightened up with brown, green and blue shutters...
and of course a few old barns just waiting to be restored!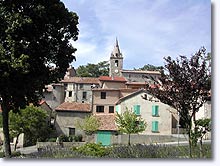 Horses in a field, an old lady enjoying the cool evening air in her doorway, and doing the crossword puzzle at the same time, a sleeping dog...
At Claret, life carries on its peaceful course!
What to see
19th century church.
Chapel of Notre-Dame.
Leisure activities
Hiking in the hills.
Mountain-biking.
Accomodations
Holiday rentals.