Estoublon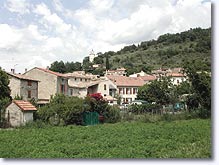 Estoublon was no doubt originally a staging post for stagecoaches (its name probably derives from Establo, meaning "little stable").
From its past Estoublon has conserved a clock tower listed as a historical monument and a 12th century church whose apse is listed.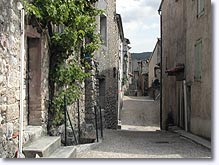 Once you've parked in the fine car park in the shade, perhaps you'll fall in love with this village nestled against a mound.
It's still a farming village, although it's also been adopted by city-dwellers who have begun renovating these magnificent old stone buildings.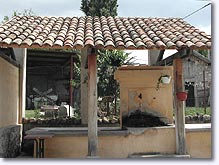 It's understandable, because Estoublon is particularly enchanting, with its superb houses built from the local river stone, its two wash houses with tiled roofs, its streets, clean and quiet.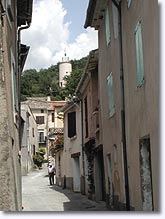 Estoublon is surprising as it is picturesque, exuding an agreeable feeling of intimacy, and will enchant you for sure.
Don't leave without buying something, olive oil, dried flowers or essence of
lavender
, the local specialities!
What to see
The Clock Tower (17th century, listed).
Church (12th century).
Trevans gorge.
Leisure activities
Hiking. Fishing.
Garlic fair, cinema and fireworks in the summer.
Accomodations
Restaurants.