Mézel
Departement of the Alpes de Haute Provence - Pop.: 600 inh.


From Digne via the RN 85, then via the D907 on 2 km.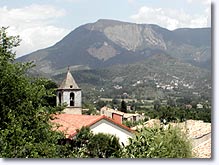 Large peaceful market town, stretching right along the banks of the Asse, a river flowing in its pebble bed at the bottom of a broad valley - Mézel is worth a prolonged visit.

Once you've parked under the plane trees in the square, take a walk down the "Grand Rue".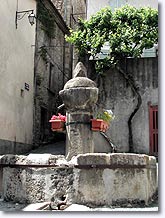 You'll be astonished to discover a charming village, with attractive colourful façades, red with blue shutters for example, several picturesque fountains and basins, and above all, a considerable number of old doors, a century old or more.

In Mézel there is not a trace of its tormented past - saracens and religious wars. In this unpretentious village, life is good, to judge by the life style of the locals: sitting by their front door, taking lunch on their terrace or enjoying a barbecue in their gardens - surrounded by fig and olive trees, vines, lavender and climbing roses - all this while listening to hard rock at maximum volume !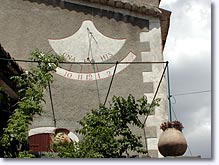 Walkers will be tempted by the little shady path that climbs up to the rock where the chapel of Notre Dame du Rosaire stands.

From there, there is a fantastic view of the pleasant valley of Asse and the perfectly harmonious Roman tile roofs.





What to see:
18th century church (interesting furnishings).
Chapel of Notre Dame du Rosaire (17th century).
Trévans gorge.


Leisure activities:
Hiking. Fishing.
Walking and relaxation !


Accommodation:
Hotel.
Holiday rentals.
Campsite.


Neighbouring towns and villages:
Beynes (2 km), Châteauredon (2 km) and Estoublon (7 km).