Saint Pierre
At Entrevaux, take the D911 road, and then the D10 for 20 km.
Population : 80 inhabitants, Altitude : 700m.
Discover the village of Saint Pierre in the Alpes de Haute Provence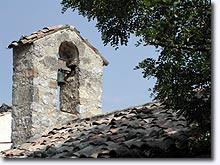 Although the road leading to Saint-Pierre is narrow and winding, here you will find greenness, tranquillity, coolness and the friendly faces of its happy inhabitants, old retired farmers and young couples working in town.
In olden times it was built on top of a hill, but nothing is left now except for the ruins of a castle and a chapel.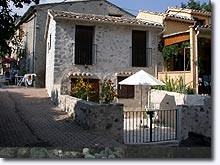 It was formerly a frontier post with Sardinia - if you look carefully you'll find boundary stones with on one side the fleur de Lys, and on the other the Sardinian coat of arms.
Today, Saint Pierre is simply a verysmall village with housesscattered over a wide area, built on a gentle slope in the middle of superb countryside.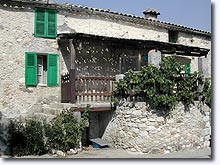 A shady small car park, one or two newly surfaced roads, a few restored house fronts with beautiful blue and bright green shutters, children's bicycles and arbours covered with vines, a tiny stone-built chapel that is beautifully understated (1612!).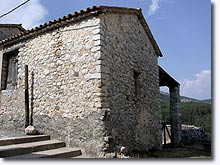 In the summer the whole village sits out to enjoy the cool evening air, in their gardens or terraces or out in the street.
Freshly cut hay, old barns, fields of sunflowers; in Saint Pierre, the country atmosphere is guaranteed!
Leisure activities
Numerous hiking paths.
Accomodations
1 country gite (in a villa).
1 Bar-restaurant (3 km).