Valbelle
Departement of the Alpes de Haute Provence - Pop.: 250 inh. - Altitude: 550 m.



From Sisteron take the D946 then the D53 for 3 km.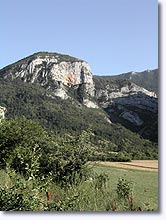 In 1620, Léon de Valbelle, offspring of an illustrious Provencal family, acquired a "seigneury" that was soon to bear his name.


Valbelle is on the northern slope of the Lure mountain in a small valley in the shape of a cirque. Today it is no more than a modest village where farmers are still working, although there are only six farms left and one of them is a sheep breeder. Only one mountain farm is inhabited.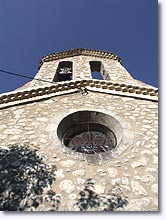 There are farmhouse cottages and barns and recently built houses with gardens scattered about under some beautiful hundred year-old trees, that in summer are appreciated for their coolness, and thereis also a cluster of magnificent old stonework houses some of which are currently undergoing restoration.

Although Valbelle does not have an exceptional historical heritage to offer - apart from the superb stonework of its chapel - Mother Nature is the Beauty Queen here, and in particular the breathtaking cliffs of the Lure mountain !





What to see:
Peyrourets caves (where flint artefacts and a horn knife handle dating from the Neolithic age have been found).
Saint Robert cave (bronze age objects).
The Lure mountain.
Ruins of the old village (the Bevons Tower) on a nearby hill.
Saint Pons chapel (the apse and the chevet are dated 11th century).


Leisure activities:
Numerous hiking paths (the GR6 hiking path).
Downhilland cross country skiing and snowshoeing in winter, on the Lure mountain (Graille pass 20 km away).
Bicycle touring. Mountain biking. Horse riding.
Regional produce fair.


Accommodation:
Bed and breakfast.
Gites. Holiday rentals.
Campsite.


Neighbouring towns and villages:
Bevons (6 km) and Noyers sur Jabron (7 km).