Verdaches
Population : 40 inhabitants - Altitude : 1,067 m.
The small village of Verdaches in the Alpes de Haute Provence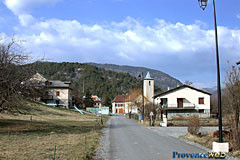 Verdaches is a very small unpretentious village located in a peaceful little valley surrounded by the crests of the Blayeul (2200 m).
It consists of a few houses and chalets scattered around a large church (end of 19th century), whose interior decor is very simple (bare walls decorated with a few statues of saints).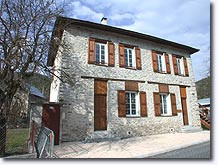 If you are lucky you might meet some of the older inhabitants - such as the oldest person in the village whom we met during our visit, 85 years old, fit as a fiddle and no false teeth! - who will be only too happy to tell you about life in the old times, when the village was held prisoner by the snow for six months of the year and the nearest town was an hour away on foot!
Even today a family walk will get you round the hamlets of Verdaches in 2h20. For lovers of the real thing, Verdaches offers absolute peace and quiet!
What to see
Verdaches "clues" (transverse valleys).
"Saut de la Pie" waterfall (4 km away).
Leisure activities
Walking, horse riding, cycling et skiing.
Accomodations
Gite for hikers.
Bed and breakfast.