'; //-->
Auzet
Alpes de Haute Provence Departement - Population : 97 inh.



Via the D900 from Digne, then the D7 for 10 km.


The small road that leads to Auzet initially goes through an impressive canyon of black rocks, where a torrent becomes a waterfall, before reaching the "end of the earth". This is in fact a pretty wooded abolutely peaceful vale, on the slopes of which old stone hay barns, chalets and houses are scattered.
The municipality of Auzet is made up of several hamlets and recently it received a few new inhabitants thanks to the installation of 4 part-time farmers and the opening of a rural music centre, which runs "music and environment" classes.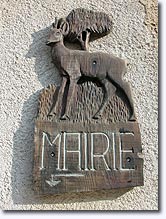 Apart from the pure air and lovely fragrance of wood fires, Auzet has an attraction for the curious: signposts sculpted in wood, representing animals. They are an original work by the sculptor Michel ANNASSE, a native of Saint Paul sur Ubaye.
Lovers of hiking can contact Eric Vissouze, a mountain guide, who will show you the "Splendours of the southern foothills of the Alps", the "Elevated crests" or the "First Alpine peaks", during hikes lasting one or more days.






What to see:
Signposts sculpted in wood.
A reindeer farm (at a place known as "l'Infernet")


Leisure activities:
Mountain-biking.
Nordic skiing.
Hiking with a Mountain guide (from 1 to 5 days, accommodation in gîtes, hotels and bed & breakfast),
to the Col du Fanget or the Lauzerol mountain pastures.
An "artistic trail" proposed by Eric Eric Vissouze.


Accommodation:

A rural music centre (80 beds).
1 Gite for hikers. 1 Refuge.
1 Café.


Neighbouring towns and villages:
Barles (6 km), Verdaches (7 km) and Seyne les Alpes (10 km).