'; //-->
Port de Bouc
The Bouches du Rhone Departement - Population : 17,900 inh.



8 km west of Martigues and 45 km west of Marseilles via the A55 motorway.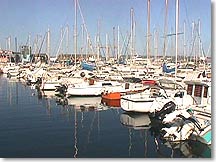 Located on the coast between Martigues and Fos sur Mer, Port de Bouc is a town that has grown a great deal and become more urban over the last few years.


Thanks to the industrial activities around the bay of Fos, it now has a population of more than 17,000, and in recent years has had to deal with the problems of industrial reconversion. The town is now turning towards maritime activities.


Port de Bouc is not really a tourist centre ... it's a town on the coast with good road links.
The historical and architectural heritage of Port de Bouc is fairly limited ... consisting of the... fort de Bouc (also known as the Caserne Suffren de Bouc) built by Vauban in the 17th century on the southern banks of the Passe river.


The town's points of interest for tourists are by the sea and the fishing harbour. A new marina has been built with all the necessary facilities, as well as a new fishing harbour with a fish market, one of the largest in the whole of the Mediterranean region.
Every day, in (almost) any weather, you will witness the constant movements of fishing boats and trawlers returning from the day's fishing at the end of the afternoon.
At the Renaissance harbour you can buy ultra fresh fish and you'll meet really friendly fishermen, selling it to you with a smile and their inimitable Southern accent... this informal market as the boats return to their harbour will give you many happy memories...
There are plenty of restaurants offering tasty shellfish, fish and crustaceans ... crabs, winkles, shrimps and rock lobsters, monkfish medallions, red mullet in foil parcels, bass grilled with thyme... accompanied by the excellent white wines of Cassis, on a terrace overlooking the harbour... very pleasant.






What to see:
Fort de Bouc (XVII°)
Marina. Fishing harbour.
Morales Museum : monumental metal sculptures by Raymond Morales
600 sculptures in an exhibition area of 5,000 m² ).


Leisure activities:
Hiking. Horse-riding Bicycle rental. Tennis.
Fishing harbour. Marina.
Nautical centre. Fishing. Scuba diving. Beach. Swimming pool.
Cinema. Exhibitions. Summer events.


Accommodation:

Hotels.
Campsites.


Neighbouring towns and villages:
Fos sur Mer (8 km), St Mitre les Remparts (9 km), Martigues (8 km) and Port St Louis (29 km).