Fontaine de Vaucluse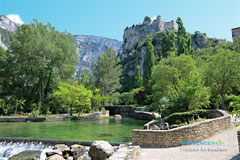 Fontaine de Vaucluse is truly one of the most visited places in the
Vaucluse
: In the summer months the streets are literally crowded and the souvenir shops come at you from all angles...
If you're looking for calm walks down the charming village streets, try and come in the morning.
The success of the village is essentially due to the impressive spring which flows out of the 230 m high cliff.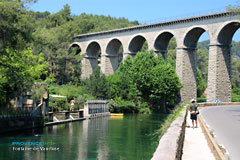 This gigantic source is the most powerful on France and fifth in the world. 630 million cubic meters of water flow out every year.
The emerald green calm summer waters become spectacular in the wet seasons, (automn and spring). 90 m³ of water per second spill into the bed of the River Sorgue.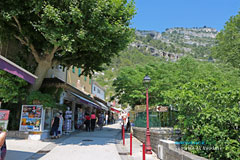 In all seasons secondary sources flow into the river to create an extremely beautiful shady pool, under the immense plane trees.
Fontaine de Vaucluse gave its name to the departement.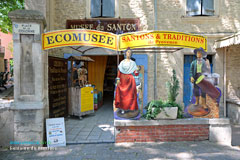 It inspired the poets
Frederic Mistral
,
Francois Petrarque
et
Rene Char
.
They were seduced by the beauty of the place and enchanted by walks along the verdant banks of the River Sorgue.
What to see
Ruins of the XIV° Bishops of Cavaillon castle. XI° ND de St Véran church, Roman style. Remains of the Roman Canal on the R. Sorgue.
Petrarque Museum (in the italian poet's former residence, XIV°).
L'appel de la liberté musée d'histoire 1939-1945 (Resistance Museum).
Ecomusée du gouffre (Underwater Museum : Caves).
Ecomusee du santon et traditions provencales: Santon Museum.
Papes Crystal makers (hand blown crystal).
Paper Mill (hand made paper, XV° century techniques.
Leisure activities
Hiking. Swimming Pool (2 months in summer).
Fishing.
Concerts and seasonal events. Crafts.
Accomodations
Hotels.
Bed and breakfast.
Vacation rentals.