'; //-->
Brantes
The Vaucluse Departement - Population : 81 inh.



27 km East of Vaison la Romaine and 20 km North of Sault.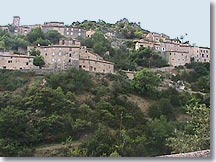 Brantes is an old village located at the northern extremity of the department, on the border with Provencale Drome. It has a peaceful aura looking out on the Mont Ventoux.
It seems to be almost suspended above the Toulourenc valley like a valiant sentry.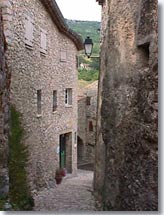 In the village, the labyrinth of lanes, archways and old stonework houses huddle around the chateau offering a wonderful panorama of the Ventoux mountain. You will be able to discover some santon and pottery craft workshops.
Be sure to visit Martine Gilles and Jaap Wieman pretty little workshop and see her apply her talent to the art of glazed earthenware. Her work includes dishes, plates, cups, bowls and lampshades decorated with hanging apples, pears or cherries. Each article is like a flower garden or an orchard... (closed on Sunday and Monday).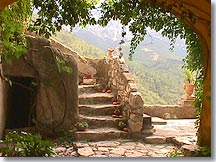 You may also wish to discover Veronique Dormier's art. She is a santon maker who creates amazing small blue santons for the Christmas crib, all the traditional figures: the cow, the ass, the sheep, etc. and the human figures including the holy family of course. (closed Wednesday and Sunday morning).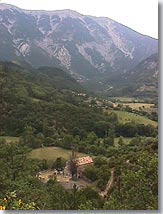 It goes without saying that the scenery around here is superb, nature has remained totally unspoilt. There are some beautiful walks close to the village. Two backpacking trails cut through the Brantes area: the GR9 and GR 91.
Far from urban centres, from crowds and noise, you can really breathe here and live at nature's pace in peace and quiet.






What to see:
The remains of a feudal chateau.
Church dating from 1684.
Panoramic view of the Ventoux


Leisure activities:
Walking. Craftwork
Earthenware Decoration workshop.


Accommodation:

Holiday rentals. Gites.


Neighbouring towns and villages:
Savoillan (4 km) and St Léger du Ventoux (6 km).