Murs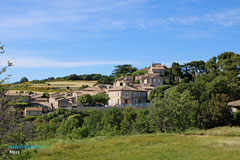 Murs is a charming little village situated in the
Luberon Regional Nature Park
, set amongst the vineyards of the
Cotes du Ventoux
(A.O.C) and orchards of cherry trees.
When you arrive in the village, you will soon see the restored château, dating from the 15th century. The chateau dominates Murs but unfortunately is not open to the public.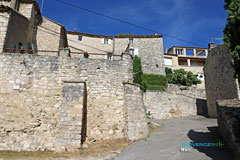 Whilewalking in the streets you will discover next to the church the birthplace of "
le brave Crillon
", "compagnon d'arme" of the famous
Henri IV
.
The house was built in the 13th century and has now been transformed into a small history museum.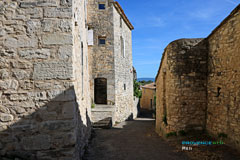 Visitors will also enjoy walking around the "
Mur de la Peste
" (the Plague wall).
This 25-km long stone wall was built in 1721 to protect the Comtat Venaissin from the plague that was ravaging the port of
Marseille
.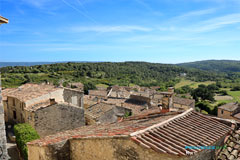 Surrounded by beautiful countryside, there are some delightful walking tracks in the area, particularly around the "moulins de la Veroncle".
A picturesque narrow path will lead you to the "col de Murs" and
Venasque
, via several gorges and a magnificent forest.
Leisure activities
Hiking, mountain biking, tennis and swimming pool.
Arts, crafts and cultural festivals.
Village festival, third Sunday in August.
Accomodations
Hotel-restaurants.
Campsite.
Bed and breakfast.
Holiday rentals. Gites.