Le Chaffaut Saint Jurson
From Digne take the N85 then the D12.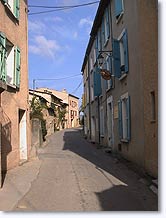 In the plain of the Bléone river, in the midst of fields of
lavender
and sunflowers, lies the typical Provençal village of Chaffaut Saint Jurson: a majestic cypress tree and a wash-house roofed with Roman tiles, a 17th century church where a 12th century silver ciborium is waiting to be admired, a main street lined with roughcast houses with blue shutters and a few fine barns built using the local stone, many smart modern detached houses scattered around the surrounding area...
But the star of the village is without a doubt its château, an enormous square construction, somewhat dilapidated now but nonetheless impressive, surrounded by a small park with some trees and outbuildings.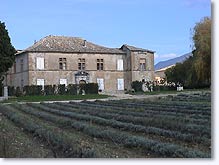 The Château de la Gremuse was built in the 15th century during the Ancien Régime, and still has a magnificent "nailed" door dating back to this period.
Today it is still the property of a Count who welcomes visitors when he is in the village ...
Historical heritage enthusiasts will be awaiting his arrival!
What to see
Chateau de la Gremuse (Renaissance, 15th century) with three towers. 17th century church (listed).
The Duyes-Bleone Distillation co-operative, where lavender, tarragon and mint are distilled.
Leisure activities
Hiking.
Fishing.
Cycling.
Accomodations
Hotel-restaurant.
Holiday rentals.
Campsite.