Châteauneuf-Miravail
Departement of the Alpes de Haute Provence - Pop.: 80 inh.



At Sisteron take the D85 heading for Chateau-Arnoux for 4 km, take the D946 on the right to go through Noyers-sur-Jabron and turn left before coming to St Vincent-sur-Jabron onto the D303.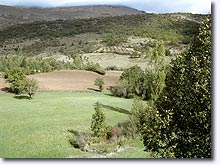 Here, there is not really a village, nor even an information panel! Châteauneuf-Miravail's only aim is to be a haven of peace in a verdant site, far, very far from the major thoroughfares.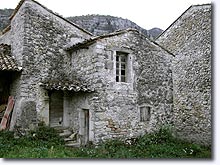 Admire the beautiful farms and outhouses that are still used here and the few restored hay barns, dotted about this marvellous Jabron valley, nestling at the foot of the Lure mountain.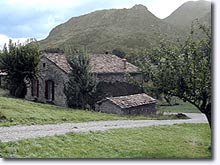 Verdant meadows, bordered by vertical rocky cliffs capped with fir trees, cultivated fields that form yellow lozenge shapes surrounded by dark green hedges, and the Jabron winding its way lazily over its rocky bed... Mother nature reigns in Châteauneuf-Miravail.







But for those who take the time to visit the small parish church, you will be surprised to learn that it houses a painting representing "the saints Patris, Joseph, Aloys and Crespin", dated 1687... listed as a historical monument since 1988!




What to see:
Painting in the parish church.
Gallo-Roman remains.
Ruins of a Château.


Leisure activities:
Walking paths, long-distance footpaths.
Horse riding, bicycle touring, fishing.
In winter, snow shoe treks and skiing on the Lure mountain.


Accommodation:
Overnight gite.
Bed and breakfast.


Neighbouring towns and villages:
St Vincent sur Jabron (3 km), Noyers sur Jabron (8 km), Bevons (12 km).