Melve
Population : 150 inhabitants
Discover the small village of Melve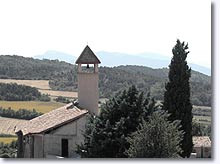 Melve is a small unpretentious village smelling of fresh grass and lavender, on a beautiful high plateau in the midst of fields of wheat and sunflowers, still cultivated by local farmers whom you may meet on their tractors.
Seen from above, its tiled roofs and old stone buildings are charming!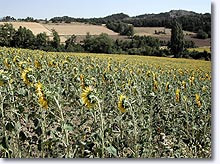 How beautiful the countryside is around Melve, with its patchwork of green and yellow fields separated by green hedges, and the blue-tinted mountains in the distance!
How delightful it must be to gently sway in a hammock tied between two trees on a summer evening, listening to the song of the cicadas!

What to see
A Saracen tower (square dungeon).
Church (inside is a gilded wooden altar).
Leisure activities
Plenty of hikes in the hillsides.
Poney-riding for children.