Theze
Population: 200 inhabitants - Altitude : 575m.
The small village of Thèze in the Alpes de Haute Provence
Theze is surrounded by immense apple orchards watered by the Durance.
It is essentially an unpretentious farming town without any real attraction to speak of.
In the shade of plane and conifer trees, the village's big grey houses with their blue shutters faded by the sun and its old abandoned barns are dotted across the plain.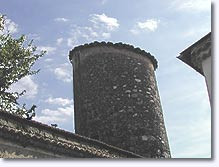 Here and there are some fine looking remains, a length of wall or, better still, the ruins of an apparently very old tower built with the magnificent local stone.

A lazing cat, a country lade wearing her apron, a local taking the air on his balcony in a singlet... No snobs in Thèze!


What to see
The remains of a 14th century château.
The orchards: note that the nets covering the trees are designed to protect the fruit from hail!
Accomodations
Gites and holiday rentals.