Prads Haute Bléone
Population : 150 inhabitants
Discover the village of Prads Haute Bléone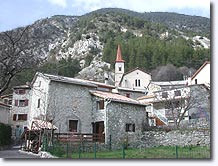 To reach this "end of the world", you must take a tiny road that runs alongside the Bléone river, as if lost in its stony bed.
A lovely road lined with majestic mountain massifs and high cliffs containing folds from erosion, a joy for climbers - and geologists, even the very youngest !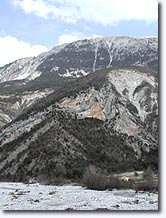 Folds, whether Hercynian or not, grey or white rock strata, 300 million years of erosion have sculpted the rock into hallucinating shapes here !
The small peaceful village of Prads is located at the very end of this cul de sac, with the cliff as a back drop, on the edge of a meadow filled with apple trees, it nestles at the foot of a mountain cirque.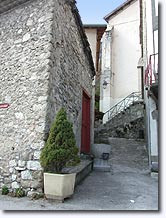 Take the paved stairs to admire some beautiful stonework houses and hay barns , a fountain or even the robust baptismal font, which is all that remains of the Viere church (13th century).
In the peaceful little streets, no doubt you will come across one or two familiar dogs, while enjoying the fragrance of a wood fire.
Moreover, if the stacks of wood beside each door are any indication, winters are harsh in Prads Haute Bléone !
What to see
The 19th century church.
The remains of a 13th century church (stone baptismal font).
The warm water lake.
Leisure activities
Climbing. Hiking Mountain bike circuit.
Hang gliding.
Accomodations
Rural gîte.
1 Refuge (at 2000m).
NEIGHBOURING TOWNS AND VILLAGES
Blégiers (5 km), La Favière (3 km) and La Javie (13 km).