Puimichel
Population : 250 inhabitants
Discover the village of Puimichel in the Alpes de Haute Provence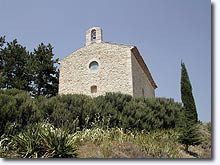 Situated east of the Durance, Puimichel is a small Provencal village peacefully surrounded by lush countryside which offers numerous delightful promenades, particularly during the mushroom harvesting season!
The village houses are clustered together in a circle. The village possesses a superb boules playing area where you can spend many happy summer evenings after the sun has set.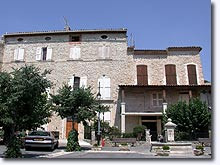 Three perfume distilleries can be found at Puimichel, producing essential oil from a variety of plants, including lavender and sage.
The village is steeped in the most wonderful fragrance when the plants are harvested from July until mid-August.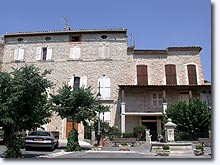 Food-lovers will have a wonderful time at Puimichel. Several bee-keepers make the most delicious natural honey and a "chevrier" or goatfarmer famous throughout the region (he has won several awards) makes excellent, small goats cheese... so fresh and refined... no-one can resist !
At the village restaurant, you can taste some typical Provencal cuisine: "daube", "pieds-paquets", "civets", "alouettes sans tête"...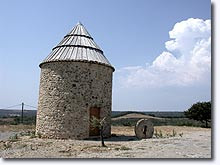 Other specialities can be found at the multi-service "épicerie" or delicatessen along with bread, meat, vegetables and quality local products.
The village festival is held twice a year : the third week in September and the third week in August.
The agenda includes a 6-day boules tournament so visitors have plenty of time to analyse all the idiosyncrasies of the game !
What to see
Parish church (base 13th century).
Perfume distilleries.
Astronomical observatory open to all, with the world's largest amateur telescope (106 cm)?
Oil mill.
Leisure activities
Hiking. Boulodrome.
Village fair (third weeks of September and August).
Accomodations
Holiday rentals.
Campsite (4 km from the village).