Le Castellet
From Manosque follow the Durance along the N96-E712 as far as La Brillanne, cross the Durance on the D4 to reach Oraison, and then take the D12 for 7 km.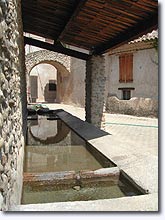 Le Castellet is a small village lying in the valley of the Rancure stream. An original feature of the village is the marvellous grey stone that strikes the visitor immediately, in the form of every size of wall in houses, barns, wash-house etc.
Almost every house, and even the shady main square with its plane trees is surrounded by its dry-stone wall, in all the different shades of grey. It is really very beautiful, giving this little
Provençal
village a special cachet!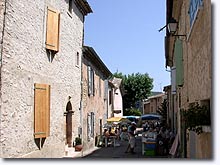 Surprisingly, the whole of Le Castellet is very beautiful, with its clean meticulously kept lanes, its many restored barns, its beautifully understated Romanesque bell tower, its archways and vaults, its cool fountains and wash-houses where the children take a dip in the summer ...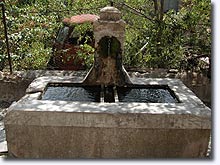 Yes, after a long period of rural exodus, children have returned to the village, escaping the urban jungle with their parents who want to enjoy a country life-style, willingly travelling several dozen miles to get to work every day, and sometimes going as far as
Aix en Provence
or
Marseilles
!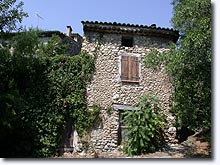 Situated as it is in paradise - in majestically beautiful green tranquillity, in the midst of Mediterranean vegetation in all its splendour - Le Castellet is undoubtedly worth making a few sacrifices for!
What to see
Castle ruins.
Chateau de Taillas (17th century).
Round fountain with two cannons.
Church with 13th century foundations.
Leisure activities
Short hiking circuits (e.g. footpaths to Chateau Levin).
Mountain-biking.
Accomodations
Holiday rentals. Gites.