Saint Lions
Departement of the Alpes de Haute Provence - Pop.: 50 inh. - Altitude : 800 m.



From Nice, take the RN 202. 2 km before Barrême, take the D19 then the D319.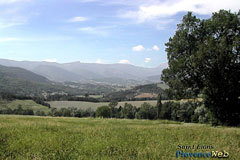 Surrounded by green hills and vast cultivated fields, Saint Lions is a small village where agriculture still plays an important role. It's a particularly peaceful place, where the local inhabitants live in the street during the summer, sitting outside their front door or on their terrace, chatting away.





A square shaded by three lime trees, a large fountain and covered wash-house dating back to the 19th century, a small church with a wall-belfry, a chicken run and a kitchen garden shaded by poplars and fir trees, some abandoned barns overgrown with nettles and smart modern houses with idyllic fragrant gardens: Saint Lions has nothing to attract crowds of tourists, but you will find several beautifully renovated Gîtes de France, many hiking footpaths which start here, making their way through cultivated fields and orchards, in beautiful countryside ...

and the local people who are very approachable and will all say hello to you! !




What to see:
Church. Wash-house.


Leisure activities:
Hiking (tour of L'Adret, Le Clap or Clavoune).
Mountain-biking. Fishing. Horse riding.


Accommodation:
Gites.


Neighbouring towns and villages:
Barrême (5 km), St Jacques (5 km), Clumanc (8km) and Tartonne (14km).